Multi Award Winning

UK MADE SHAMPOO BARS
100% PLASTIC FREE, CRUELTY FREE & VEGAN. FREE LETTERBOX DELIVERY ON ORDERS £24+ AND ALL SUBSCRIPTIONS
"A little goes a long way, and we loved how quickly the bars lathered up".
Bye Bye Bottles... Hello KinKind!
At KinKind we believe in families, that together we can create positive change, eliminating plastic bottles from our bathrooms, so it simply can't get to our oceans.
Together we have now saved a whopping 530,357 plastic bottles since KinKind launched at the end of Dec 2019.
Join us and create positive change in your family bathroom..... it feels great!
See reviews from other families here
CHRISTMAS BEAUTY & GROOMING GIFT SET COLLECTION
🏆 BEST SHAMPOO BARS 2021
The Independent INDY BEST BUY is KinKind NOURISH me! Shampoo Bar.
After using and reviewing 14 brands of UK Shampoo Bars, including some very big beauty and retail brand names, this is their verdict...
"Small family run business KinKind really impressed us with both their range of shampoo bars, and with their letterbox delivery service using minimal packaging, which is both effortless and eco-conscious".
3 simple steps to join our KinKind family and enjoy living plastic-free
1) CHOOSE YOUR BARS
2) SUBSCRIBE WITH FREE SHIPPING AND SAVE 10%, or choose one-off purchase. Subscriptions are totally flexible and you can cancel at any time.
3) NO NEED TO BE AT HOME! We've designed KinKind for LETTERBOX DELIVERY by your Postie. NO EXTRA couriers needed!
Prefer to order by phone? Call our friendly customer service line on 03301337242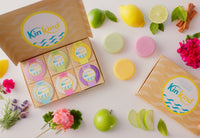 AWARD WINNING KINKIND
BEST NEW BRITISH BRAND 2020!
Against tough competition in the Pure Beauty London Awards, KinKind was voted the BEST NEW BRITISH BRAND of 2020!
KinKind is a proudly BRITISH brand! Our lovely bars are hand-made in the UK, they go on one short journey to the amazing team at the Fulfilment centre, and are delivered to you by Royal Mail postmen/ladies through the letterbox. We are keeping the Carbon Footprint as low as possible by choosing to sell direct to you AND we're supporting and creating new UK jobs.
Choose KinKind for your family, enjoy our lovely bars, switching from plastic bottles in your bathroom, and support UK jobs with THE BEST NEW BRITISH BRAND!
BEST NEW SUSTAINABLE HAIR PRODUCT 2020!
KinKind Shampoo bars and Conditioner bars won the BEST NEW SUSTAINABLE HAIR PRODUCT AWARD in the Pure Beauty GLOBAL Awards 2020!
We're not just the best in the UK! KinKind shampoo bars are lovely-to-use, helping families switch from plastic polluting bottles to plastic-free bars without compromising on experience or results. KinKind is designed to keep the Carbon Footprint as low as possible, delivering lovely-to-use, plastic-free, UK hand-made bars through the letterbox. That's why KinKind is the BEST NEW SUSTAINABLE HAIR PRODUCT!
HERE'S WHO IS FEATURING KINKIND IN THE PRESS...