Summer Hair and Skin Care Guide: Embrace Planet-Friendly Self-Care with KinKind! ☀️
Summer is finally here, and it's time to soak up the sun and enjoy the warm weather. However, the sun's rays can take a toll on our hair and skin, leaving them dry, damaged, and lacking that healthy glow. That's where Kinkind comes to the rescue! With our range of convenient and travel-friendly products, you can easily take care of your hair and skin on the go. In this blog, we'll explore some essential tips and highlight our fabulous products to keep you looking and feeling your best throughout the summer season. ⛱ 🌞
One of the standout features this summer is our travel-friendly design. Unlike bulky bottles that take up precious space in your luggage, KinKind's solid bars are compact and easy to carry. Whether you're jetting off on a tropical vacation or spending a weekend getaway at the beach, KinKind's products are the perfect companions for your summer adventures. They meet travel regulations, save space, and ensure you have all the hair and skincare essentials at your fingertips. ✈️ 🌍
Explore our travel sets here, featuring 2 bars and 2 sleek aluminium tins. Perfect for your summer escapades, these sets ensure secure storage while you make unforgettable memories. 🌊
Hair Care
1. Shield Your Hair from Harmful UV Rays
Sun exposure can lead to colour fading and unwanted brassy tones in your hair. KinKind's my PLATINUM touch! Shampoo & Conditioner Bars are a must-have for blondes/light hair to combat these effects. Infused with purple pigments, they neutralise brassy undertones and maintain the vibrancy of your hair colour. Simply lather the bar in your hands, work it through your wet hair, and rinse for a luminous, refreshed look.
...And if you're a brunette, enhance and protect your hair colour with our Make me SHINE! Shampoo & Conditioner Bars. These incredible bars not only lock in your gorgeous brunette hue but also help extend the life of your colour throughout the summer, leaving your hair with an irresistible and enviable shine.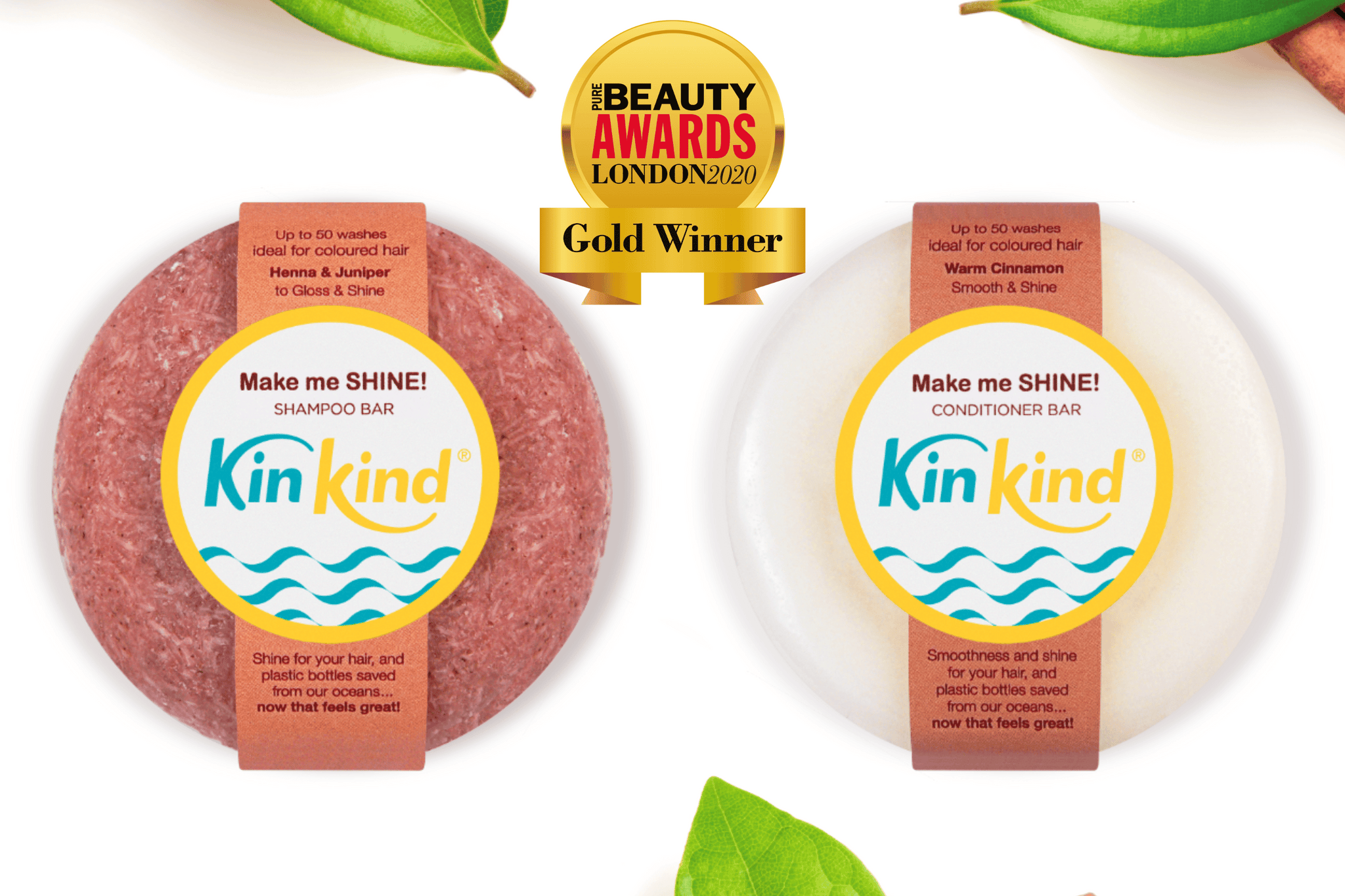 2. Hydrate and Nourish
The summer sun can leave your hair feeling dry and brittle. KinKind's Give me MORE! Shampoo and Conditioner Bars are the perfect solution. Packed with nourishing ingredients that deeply hydrates your hair, leaving it soft, smooth, and manageable.
This bar is also curly hair friendly!!
A beloved choice among KinKind customers is our NOURISH me! Shampoo and Conditioner Bars, which now come with an enhanced formula for even greater nourishment this summer. Infused with the goodness of argan oil and coconut oil, these bars provide an extra boost of hydration and care for your hair. With this winning combination, you simply can't go wrong in achieving healthy and luscious locks this season.
Skin Care
Suncream is a non-negotiable step in your summer skincare routine and after a day in the sun, your skin needs some extra love. KinKind's After Sun Bar is a game-changer. Enriched with soothing ingredients including aloe vera, this bar provides instant relief from sunburn and hydrates the skin, promoting its natural healing process. Its solid form makes it a practical and mess-free alternative to traditional after-sun lotions.
By opting for our sustainable alternatives, you're actively participating in the global movement towards a greener future. So, while you're enjoying the sun and taking care of your hair and skin, you can feel great knowing that you're making a positive impact on the planet. 🌍
This summer, make self-care a priority and protect your hair and skin from the sun's harmful effects. With KinKind's innovative range of hair and skincare bars, you can easily maintain a healthy and radiant look while enjoying the summer sun. All whilst embracing the beauty of being plastic-free and contributing to a healthier environment.
Together, let's make this summer a season of eco-conscious choices and sustainable beauty.💚
For any inquiries or advice, please reach out to our dedicated support team at support@KinKind.co.uk. We're here to assist you!